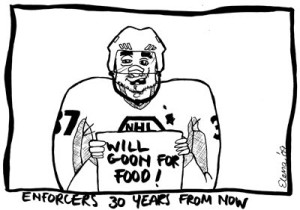 It's interesting how often we're asked by pickup hockey organizers IF their regular weekly game will start to fill up with goons when they start working with us. We're asked this enough, we added it to our FAQ and I'm clearly writing about it here.
I don't want to get mushy here but we love the folks who put in the hours to create, and curate, awesome pickup hockey games. It's a thankless job that takes a ton of work. You can see that work when you step on the ice at a well attended game that has a consistent skill level in the players, good clean hockey, and of course a goalie in each net. All we want to do is support those organizers and make their life simpler.
So no, we will not randomly drop skaters into your regular game. As an organizer you are in complete control of who plays in your game. You can remove skaters who aren't working out, you can add, whatever you need.
If you're often short skaters and you explicitly ask us, of course we will work to introduce and add more skaters to your game. We can do that quite easily. We'll work hard to ensure they fit your game. In the case one doesn't fit, for whatever reason, you can simply remove them and they will no longer get invites.
PS…We've moved off gravatar for our avatars. You can simply upload your avatar to your account now. It's great seeing all the hockey avatars popping into the games.