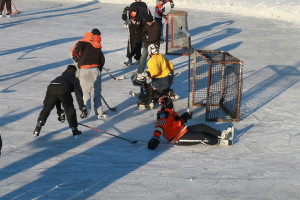 Obviously the main thing we do is help others organize their weekly pickup hockey game. I also book my own ice now and again and run pickup. I've recently had a few folks ask if I'm going to run regular pickup. My answer is always no….
but you should rent some ice and I'll help you run it and fill it!
I figured I should make a wider offer along those lines. If you want to run pickup hockey, I'm happy to help you do that. In our popular cities, we have a large set of skaters who have already filled in our "Find More Hockey" application. I can invite all those folks to your skate. If we're not yet busy in that city then we can actively work on finding more players before you actually book your ice.
Bottom line, we love pickup hockey. If you're contemplating running some, we're here to help so don't hesitate to ask! It may be easier than you think!