With the proliferation of 'Uber for x' businesses out there today, I hesitate to reference Uber but here goes…
1) Ever heard of Uber? If you haven't, they are a multi-billion dollar company that is completely disrupting the way people move around cities.
2) Ever heard of the corridor principle? In a nutshell, you have no clue what doors(options) are available to you until you start walking down the hallway.
1 + 2) Uber co-founder and CEO Travis Kalanick openly admits that Uber was a fun lifestyle business when it began. "In the beginning, it was a lifestyle company. You push a button and a black car comes up. Who's the baller?"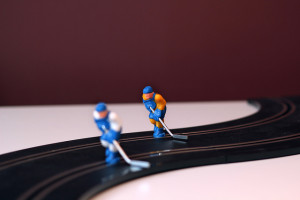 Even Uber alludes to the fact they may not have mapped out where they are today back when they began. While it applies to Uber as a business, the corridor principle applies equally as well to customers. While few people would describe the process of taking a taxi as pleasant, they also weren't actively complaining. Until Uber allowed us to start walking down the hallway, we didn't know what options were available and how much better the experience could become.
To date, every organizer who has tried automating their weekly pickup hockey game with us is still with us today. Until you experience it, it's difficult to imagine how annoying, painful and time consuming it is to run a game. Chasing full timers to see if they're coming this week, chasing subs to commit, last minute drop outs, forgot my wallet, this sucks why do we only have 11 skaters, and on and on….
"It's working, I've completely ditched my old spreadsheet entirely and love not chasing money and having it just flow into my bank account", Tom (two game per week organizer in Ottawa)
If you play pickup hockey, trust us when we say that your organizer spends way too much time and money running it for you. Let them know about 20Skaters and suggest they fully automate their weekly game!