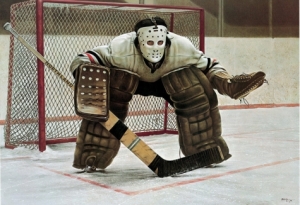 Being short a few skaters on the bench is tolerable but we all know two goalies is a must! If you're organizing pickup hockey with us, our advice is always to grow your goalie sub list as much as you can. Once you have two goalies registered for your next game, we stop emailing and inviting your sub goalies. So there's no drawback in having as many goalies on your sub list as possible.
If you find yourself chasing last minute goalies often, there are a few suggestions to help.
Ask for help from your skaters, let them know you want more goalie subs. Send a quick email to your lineup asking for their help. From your Manage My Players page, click your yellow Email all players button and ask your skaters to help you recruit some more goalies.
Rent a goalie. If you're in a larger city, renting goalies is always an option. Prices tend to range from $30 to $50 per hour. As well, Mike and the team at Goalies911 are offering 20Skaters organizers $5 off if you need a tender. Make sure to mention that you're a 20Skaters organizer when you phone Mike.
As requested by our organizers, longer term we plan to build deeper integrations with services like Goalies911. This will allow you to easily rent a goalie through your dashboard or have us do that automatically if you still need a goalie close to gametime.