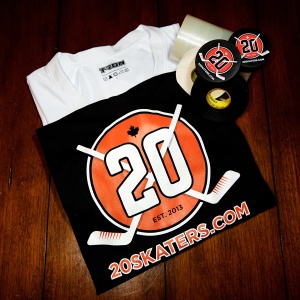 If your significant other, kid's, or parent's are trying to find that perfect gift for you, send them to this page!
We've whipped up the perfect gift for the pickup hockey player. It includes your black/white pair of practice jerseys so you're no longer the guy wearing red that no one passes to at pickup hockey. As well, we've included a coach's pack of tape and some pucks.
We only have a few of these left so contact us directly if you'd like one. We're selling them for $80 + HST and shipping.
20Skaters Holiday Package includes:
1 white practice jersey
1 black practice jersey
6 rolls of clear tape
1 roll of white tape
1 roll of black tape
2 hockey pucks