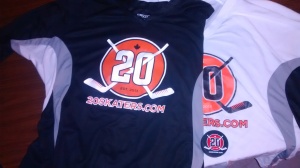 We have the perfect Christmas gift for that person in your life who shows up to every pickup game sporting a yellow, red or grey sweater! Buy them a pair of 20Skaters practice jerseys, one white and one black!
For a short time, we're selling these in pairs for $60+HST, includes shipping in Canada. If you're interested, just email us directly! If you're in the US, there will be a small additional charge for shipping.
If you're a 20Skaters organizer and interested in a team set, we can help there as well.