Ever heard of the Exclaim Cup, aka The Hockey Summit of the Arts? It's an annual hockey tournament, held on Easter weekend. There are some unique aspects to this 30+ team tournament to say the least. Teams not only play hockey but they also play live music sets at the evening Hootenannies at The Horseshoe. There's also live rink rock playing at the games when the puck's not in play.
If you're a musician, actor, or otherwise make your living in an artistic manner AND you can play hockey, you have to find your way into this tournament. With teams from Montreal, Halifax and several from Vancouver, this is the pinnacle of music + hockey!
I've been lucky to play in the tournament off and on for over a decade, starting with the legendary Three Gut Feelings.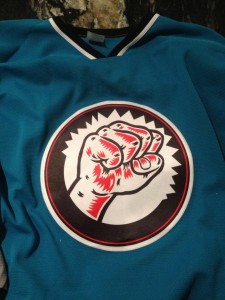 This weekend I'll be playing with the Guelph Royal Pains who have brought a trophy home the past two years. Along with catching as much of the live music as I can, I'll be working on spreading the word about organizing pickup hockey using 20Skaters. I'm bringing along my friend John from HockeyTron as well. We should have some sticks for folks to try out and we will have some gifts and giveaways.
See you this weekend, make sure to find our setup and say hey!