There's no referees, whistles or announcers, just 20 guys playing the game they love. The skill levels vary, the bounces are crazy, and the goalies get little rest. But we love it.
Pickup hockey is about more than competition. That's why we love what we do at 20Skaters. Helping organizers put an optimal number of players on the ice makes it more fun for ever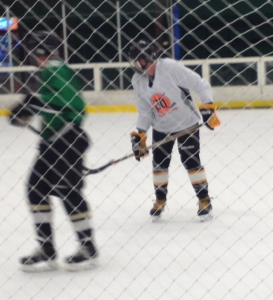 yone. More importantly, we love when we get to hear the tales of glory from our wonderful and growing group of pickup warriors.
Our friend 'stevetehpirate' recently broke down the first goal he scored playing drop-in hockey. Not everyone is Sidney Crosby out there; for most of us scoring is hard work. I'll let 'steve' tell it himself, "Got in front of the net. Actually caught a pass. Somehow, put it up top, glove side… blocked. Snagged the rebound and pushed the puck through the swarm of sticks towards five hole. Easy pad save. Snagged the rebound yet again and tucked between the post and the goalie's skate before falling backwards on my ass."
It doesn't have to look pretty. As they say, "there's no pictures on the score board." Perseverance is everything in hockey.
We were thrilled that he was sporting his brand new 20Skaters jersey. When we get him the dark version, he might just turn into Alex Ovechkin.
This story reminds us that there's always that guy out there with you, grinding hard, trying to bury his first, even though you already have 5 tonight. Put the puck on that guy's stick, and give him the opportunity. It might not work out, because as Steve put it "Give me a soccer net and I'll still have a tough time." Yet, when guys like him are scoring, everyone is having a good time.
Because after all, that's what pickup hockey is all about. As he mentions "conked my head on the ice, which might have hurt if I wasn't so damn happy." We were happy for you too!