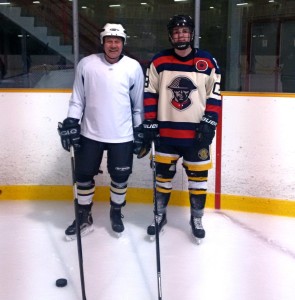 Most adult (beer league) hockey players I know have taken significant time off from hockey at some point. For me, I stopped playing the game entirely for about 15 years. I didn't even go public skating during those years.
Whether you've taken a long stretch off, or you're new to the game, you know you need practice and possibly some coaching. Playing drop-in, and games, is obviously the point but being able to practice, having lot's of time with the puck, work on skills is required to really improve your game
If you're in the Guelph, Kitchener, Waterloo, Cambridge area then checkout Eric Calder's programs. Specifically, Eric runs an adult power skills and power skating programs once each week. It's 70 minutes which means the beer will taste great after!