Yes, the majority of pickup hockey games do not keep score. Our platform is targeted at people who organize a weekly game of pickup hockey. For most, that means a similar group of players each week. Keeping score in some fashion with a close, consistent group is a great way to keep the compete levels up. I thought I'd lay out some simple to more advanced methods.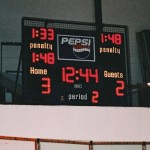 Simple mini-games
Run mini games, each going to a score of 5. This gets the players on the ice keeping score, pushing the pace if they're down, maybe even playing some D if they're protecting a lead. Once a winner reaches 5, goalies or teams switch ends and start a new game. In a 50 minute timespot you should be able to get a few of these games in.
mini-games, with weekly winner
This is just a step further in that you keep track of which team wins the most mini-games. This matters more if you are keeping teams somewhat consistent week to week. It certainly will add to the dressing room chirping after the game each week.
Timed games
This is more work, as you need to access the game clock or time on the bench. Running a few timed games makes a big difference in the competition. You're now playing against the clock rather than the game extending until a team scores 5. In the new game I'm running, we play three 25 minute timed games. With a timed game, you can also pull your goalie and push to regain leads late in games.
Tracking teams and wins
This is next level stuff, I will admit that I'm new to this. We are using our team selection feature, and picking teams at random each week. Using this feature means that we have the full history of who played on which team each game. We're tracking wins and we're assigning each player 1 point for a game win and an extra point if their team wins the night. We can then track 'player stats' and share them week to week. I'll keep you up to date how this works as we're only three weeks in. I'm prototyping this by using a shared google sheet, you're welcome to take a look if you like. Assuming this works, we'll build this into our teams feature shortly.
Are you keeping score in your weekly pickup hockey games or doing anything interesting to keep your skaters pushing? If so, let us know so we can share it with others here.